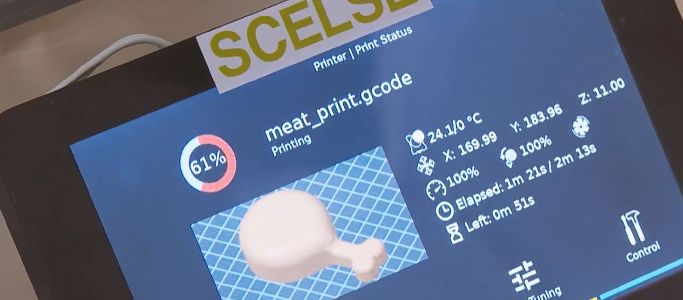 (Screenshot from Channel 8 Hello Singapore programme: preparing to print a drumstick)
With our food-obsessed culture in Singapore, 3D-printed chicken curry might just take off one day. At least, that would be in line with the hopes of SCELSE Research Associate Anirudh Agarwal, who is working on commercialising a 3D food printer to produce nutritious and scrumptious foods.
Agarwal's work with SCELSE PI Prof Patricia Conway was highlighted as part of local broadcasting channel Channel 8's Hello Singapore programme within their "Click IT" segment featuring the latest impressive technological advancements and going-ons in the city.
The featured 3D food printer goes beyond just printing edible consumables, and has a larger promise of precision nutrition. This involves developing a dietary meal or meal plan that takes into consideration a consumer's health conditions, medical needs, dietary patterns and requirements. This approach to meals and nutrition is immensely helpful in the realms of geriatric care, healthcare, and childhood nutrition, especially for the elderly who may not be able to get the nutrients they need if they have difficulties eating.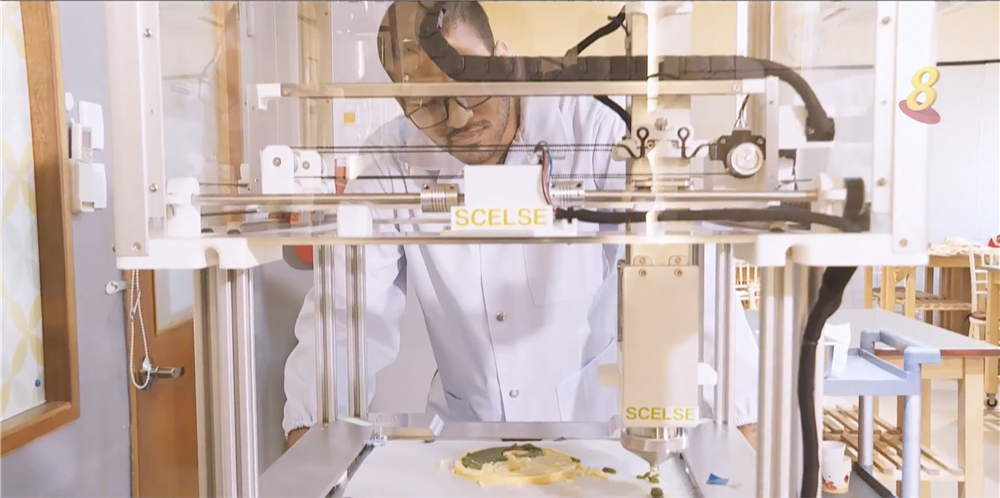 "For vegetables that are too fibrous, they may become much more palatable especially to kids," Agarwal explains in the interview. "For the elderly, because it's in paste form, it becomes easier to digest, easier to eat, and the paste form also makes nutrients more available."
The programme showcases the preparation and printing process, starting with the prepared pastes of curry chicken, dough, and spinach with a hint of rosemary. After the machine prints the combination of food pastes, plop in under the grill and the highly nutritious and gratifying food item is ready for your palate!
There is also an aspect of sustainability to this endeavour of digital gastronomy. "Because we personalise [the food] for every individual, it would become less likely for people to overeat or undereat. If we go on a large enough scale, that can help reduce food waste," says Agarwal.
The fruits (or foods) of this project could also be of interest to the hospitality sector, especially hotels that could deliver highly personalised and nutritious foods to their clientele, Agarwal adds. To these many ends, be they healthcare, hospitality or the F&B industry, the 3D food printer is currently being prepared for commercialisation and further recipes are being developed.