New tripartite partnership to support aquaculture nutrition and health
In Singapore National Biofilm Consortium's (SNBC) effort to boost collaboration between industry and academia, SCELSE/NTU, Adisseo and PC Biome have signed an eighteen-month long Research Collaboration Agreement (RCA) in the area of aquaculture nutrition.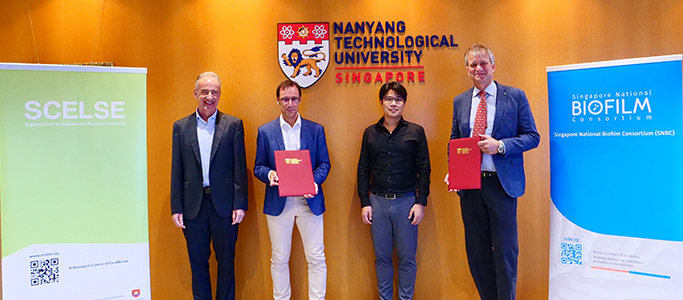 A global leader in nutritional solutions and additives for animal feed, Adisseo and start-up company PC Biome Pte Ltd (also an SNBC industry member) are partnering with SCELSE to reduce the need of animal testing for nutrition and health studies in aquaculture through this research programme.
This agreement underscores SNBC's objective of enabling technology translation, while lending strength to Adisseo's corporate Research & Innovation (R&I) efforts of improving animal welfare. SCELSE will be the main host for all lab-based work while PC Biome will provide its expertise in using its proprietary models on the gut microbiome.
Prof Stefan Wuertz, SCELSE Deputy Director (Education & training), said: "SCELSE has expertise in biofilms & microbiomes which can truly benefit the enterprises. We hope that this is the first of many RCAs to come with Adisseo."
Mr Michel Birnbaum, leading SNBC's Business Development arm said: "SNBC is celebrating its 3rd anniversary this year, and already boasts over 25 industry memberships from a broad range of sectors. SNBC is particularly pleased to play a prominent role in engaging its stakeholders of aqua- and agri- food industry to boost Singapore's food security." We are grateful to Adisseo for engaging fully with the Singapore ecosystem.
This RCA was signed on 7 Jul 2022 at NTU and is a further example of how public-private partnerships can deliver more impactful outcomes.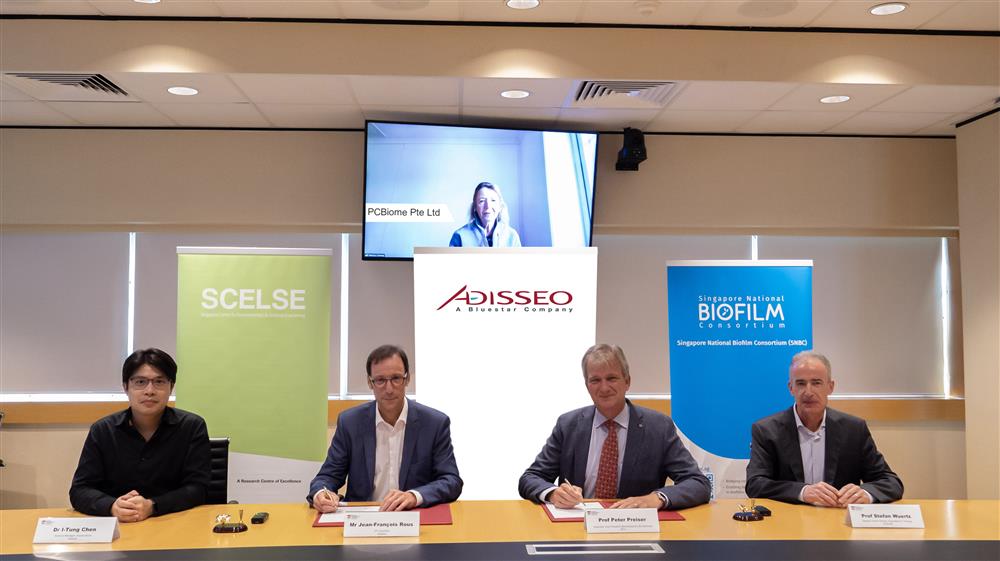 A year-long discussion between SNBC and industry stakeholders has culminated in the signing of this tripartite RCA Left: Dr I-Tung Chen, Science Manager (Aquaculture), Adisseo, Mr Jean-François Rous, VP Innovation, Adisseo, Prof Peter Preiser, AVP Biomedical & Life Sciences, NTU, Prof Stefan Wuertz, Deputy Director (Education & Training), SCELSE & Vg Prof Patricia Conway, PC Biome Pte Ltd (on screen)