npj Biofilms and Microbiomes journal climbs up rankings with increase in impact factor to 7.1
The npj Biofilms and Microbiomes journal, published in partnership with SCELSE, has increased its impact factor from 6.3 in 2018 to 7.1 according to 2019 journal metrics. With that, it is setting its sights on brighter horizons.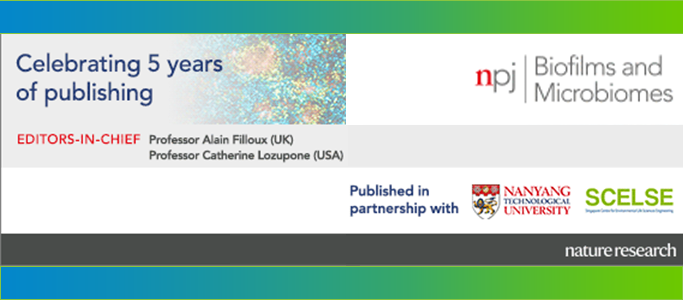 T
he journal's status has risen from its initial impact factor of 4.1 in 2017, indicating its success in terms of visibility and recognition, says editor-in-chief Prof Alain Filloux, Chair in Molecular Microbiology at Imperial College London and visiting faculty at SCELSE.
The number of submissions also reflects the journal's recognition since it was launched in 2015, with more than 15 submissions each month this year – more than double compared to the same period last year.
"The fact that we moved above seven is a fantastic achievement," says Prof Filloux. "The prediction for next year already looks promising and we hope that the ascent of the journal will continue." With this new impact factor, the journal is now ranked 16th out of 134 places among the journals in the microbiology category.1
Prof Filloux attributes this increased recognition to the quality of the editorial team, which currently includes fellow Editor-in-Chief A/Prof Catherine Lozupone from University of Colorado and associate editors Prof Tom Battin, Prof Jean-Marc Ghigo, Dr Omry Komren, Prof Rosa Krajmalnik-Brown, Prof Sandra L. McLellan. The team has also been encouraged to take a proactive approach in commissioning high quality papers and reviews for the journal in the coming year. With the increased number of submissions, the editors are considering appointing more associate editors with expertise on specific areas of biofilm research.
"We will also be in most of the conferences that are specific to biofilms and make sure we reach out to all in the biofilm community," says Prof Filloux.
New initiatives for npj Biofilms and Microbiomes in 2020 include the launch of a special issue covering translational research on biofilms; the call for papers is still open, with the submission deadline in September.
"There are many journals on biofilms and even more numerous microbiology journals, so the competition is certain but our increasing visibility as a journal is clear," sums up Prof Filloux.