Application for SCELSE Summer Course 2023 is now closed.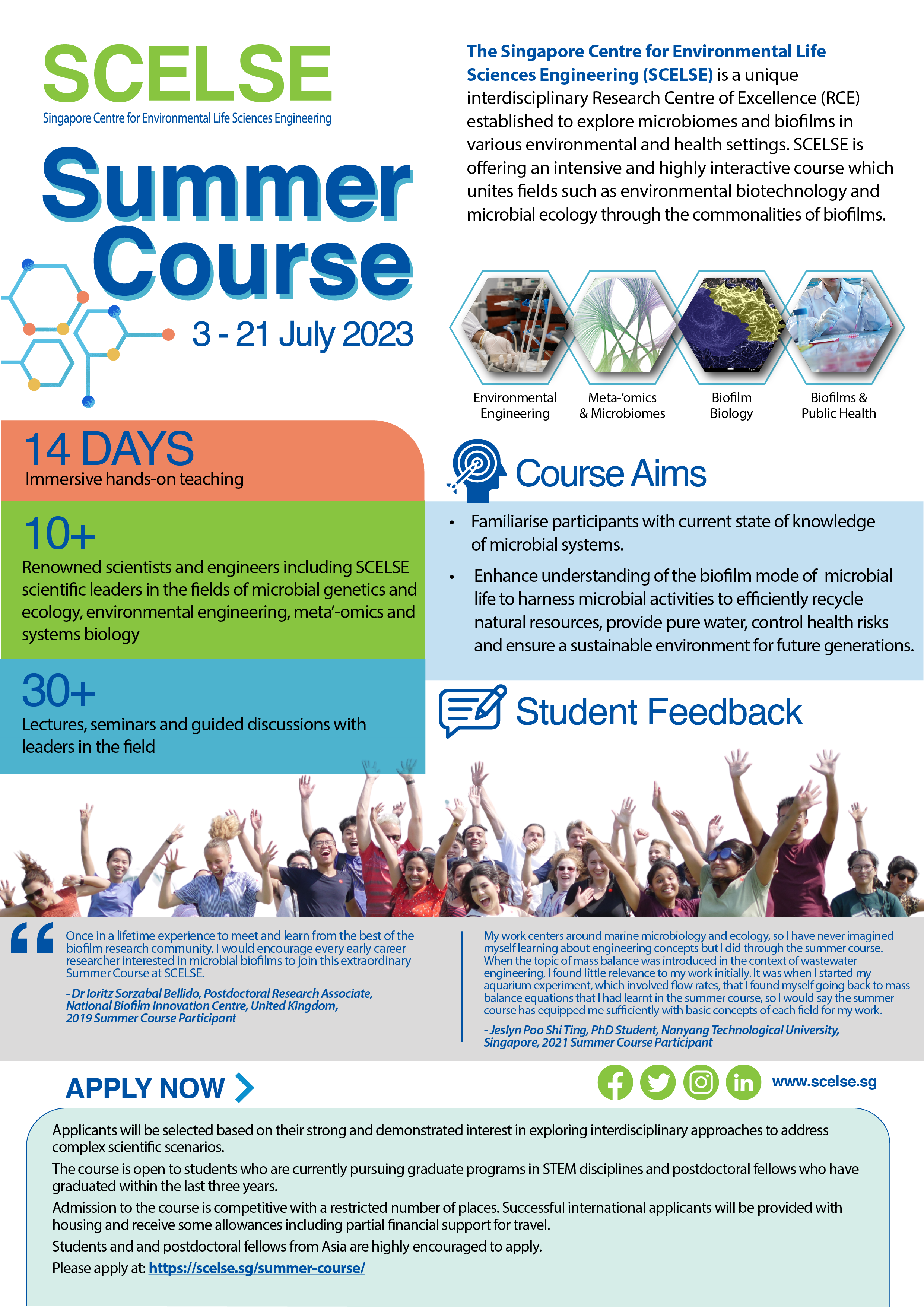 Our understanding of the microbial world is undergoing multiple paradigm shifts. Microbes are no longer viewed as free living, single-celled organisms. Instead there is a growing realisation that they reside in dynamically structured communities of multiple species embedded in a polymeric matrix, which we define as biofilms. Their communal activity is substantially different from the summation of the individual member species or their variants. The majority of the members of such communities cannot grow independently, such that classical reductionist approaches of pre-culture laboratory studies are of limited value. To understand the activity of biofilms and their member species we must, therefore, resolve to study the community using a complex system approach.
These paradigm shifts make it necessary for us to revisit applications of microbes in engineering processes, human health and environmental contexts, an endeavour made possible through the concurrent rapid and exciting developments in life sciences, including those of meta-'omics, systems biology, high resolution imaging, nanotechnology and materials sciences. Use of such a multidisciplinary platform for exploring the biology of microbial biofilms, will allow for the development of new environmental engineering tools for informed manipulation of the biological processes from within, rather than the current use of external control tools. The latter requires large-scale engineering platforms catering to the requirements of stable bioprocesses with little knowledge of the biology of the microbial biofilms.
As evident from above, a new spectrum of graduate level students, investigators and practitioners in environmental engineering with good insights into contemporary life sciences is needed to ensure environmental sustainability under exponentially increasing environmental stresses. These experts will be in a position to safeguard urban as well as environmental sustainability and safeguard human well-being in increasingly stress-impacted habitats.
This course aims to provide participants with the following benefits:
Familiarise participants with current state of knowledge of microbial systems
Enhance understanding of the biofilm mode of microbial life to harness microbial activities to efficiently recycle natural resources, provide pure water, control health risks; and ensure a sustainable environment for future generations.
This three-week course brings together world-renowned scientists and engineers including SCELSE scientific leaders, and guest experts. Participants will interact with these experienced mentors in their interdisciplinary approach to understand and harness the biology of biofilms in environmental, health and industrial applications. The course consists of:
structured core lectures;
topical seminars;
guided discussions on specialised topics and case studies;
international and regional perspectives;
exposure to the progress made by Singapore for its water resources.
Learning outcomes involve understanding mechanisms and processes using quantitative approaches. This knowledge will be used to help design experiments that can yield information for developing new technologies or solving problems in the engineered environments.
The course is held in the midst of NTU's rich, green campus. The course format provides ample opportunities for the participants to interact closely with the mentors in small groups and informal settings.
Applicants will be selected based on their strong and demonstrated interest in exploring interdisciplinary approaches to address complex scientific scenarios.
The course is open to students who are currently pursuing graduate programs in STEM disciplines and postdoctoral fellows who have graduated within the last three years.
Admission to the course is competitive with a restricted number of places. Successful international applicants will be provided with housing and receive some allowances including partial financial support for travel. Students and postdoctoral fellows from Asia are highly encouraged to apply.
Kindly ensure that you have the following documents before you fill in the application form:
• Curriculum vitae bearing your most recent passport-sized photograph
• A scanned copy of your Passport
• A scanned copy of your TOEFL results or other documentary evidence of English language proficiency (for applicants who are based at universities where English is not the medium of instruction)
• A scanned copy of your educational certificates and transcripts or other relevant documents
• All documents must bear your name
The application form must be filled in English; and the supporting documents, if not in English, must be accompanied by copies of the English translation of the documents.
Should you give inaccurate details or suppress any material information, your application or the subsequent offer will be declared void.
Once the application and supporting documents are sent to SCELSE-SummerCourse@ntu.edu.sg, emails will be sent to the referee(s) for their submission of their referee reports.
It is the applicant's responsibility to ensure that all recommendations/references are performed before the deadline 22nd March, 2023.
Only successful applicants will be notified by email before 30th April, 2023.