Advanced Biofilm Imaging Facility
Microscopy imaging is an indispensable tool for the interdisciplinary research on environmental, life sciences and engineered biofilms and microbiomes conducted at SCELSE. However, our microscopes can serve to address a broad range of research topics in non-microbial life and materials sciences and, therefore, SCELSE's Advanced Biofilm Imaging Facility (ABIF) is open to external users. Usage fees for external users can be found in the price list. Below, you can find information on the equipment and services in our facility and on how to access them. Do not hesitate to contact us to discuss how we could help you with your imaging requirements. ABIF belongs to the imaging shared facilities network such as NTU Optical Bio-Imaging Centre (NOBIC) and SingaScope.
SingaScope is an upcoming microscopy infrastructure network that brings together imaging platforms of five institutes to enable scientists in Singapore to access valuable microscopy resources.
Funded by a S$41-million NRF grant, the country-wide initiative will cater to researchers from SCELSE, A*STAR, SingHealth Advanced Bioimaging, and Centre for Bio-imaging Sciences (CBIS) and Mechanobiology Institute (MBI) at NUS, with the intention of expanding to include further platforms.
With an eye on cementing Singapore's position as the regional centre of excellence for microscopy, SingaScope has several plans in the pipeline for the usage of the grant. These include:
Establishing a searchable online database for scientists to identity and access instruments and expertise relating to microscopy
Organising forums for the exchange of experience and information between microscopists here and the international community
Upkeeping existing equipment
Offering technical and operational training courses
.To get a better idea of what images can be acquired at our facility, check the results of our 2018 Imaging Contest.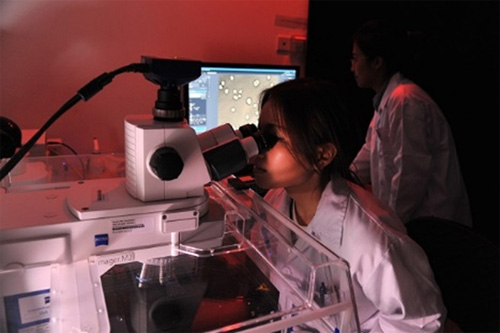 Utilising State-Of-The-Art Technology
What do we offer
Our facility is equipped with the following microscopes:
And related IT infrastructure:
Four workstations for image processing with software such as Imaris 9.0.2 (at three stations), FIJI, Matlab or ZEN available.
OMERO image repository for safe storage and organising of images and to facilitate data transfer from microscope workstations. Refer to our brief guide to learn about accessing OMERO at SCELSE server (including information on getting your username and password). Fill in this form if you wish to create an OMERO account and are not a registered imaging facility user (e.g. if you plan to analyse images acquired by your colleagues). Note that OMERO is available only for members and direct collaborators of SCELSE research groups. If you are not eligible for an OMERO account, refer to our brief guide for information on an alternative data transfer solution.
Besides the access to the abovementioned resources we offer our users consultation and assistance with any stage of their imaging experiment from experimental design to image analysis and interpretation. Do not hesitate to contact us to discuss any aspects of your imaging experiment.
Register as a user of our equipment booking system (by registering as imaging facility user you accept the facility usage policies). We will get back to you to discuss what instruments will best suit your needs and to arrange the training necessary to use the facility. The training consists of three parts:
Safety training needed to work in SCELSE laboratories,
MyScope (Microscopy Australia) online modules on

Light microscopy techniques (depending on the equipment you are planning to use)
Kindly go through the relevant modules before the hands-on training, take the quiz in the last module (don't worry it only concerns the most basic concepts covered by the modules) and send us the certificate to share your success with us.
Hands-on training at the selected microscopes.
After completing the training, you will have the rights to book the respective equipment and be able to apply for card access to the facility. Note that using the confocal and laser widefield systems in ABIF requires an appropriate N3 license.
When you are publishing
When publishing the results of your imaging experiments do not forget to include a complete description of the microscope setup, all settings used (including e.g. excitation intensities) used and the whole image processing and analysis workflow. Do not hesitate to contact us if you need any advice.
And, of course, do not forget to acknowledge our facility in your publication.
Email: abif@e.ntu.edu.sg; nobic.facilities@e.ntu.edu.sg
People
FOO Yong Hwee (Dr) – ABIF manager, user registration and training, consultation on sample preparation and imaging, super-resolution imaging, image processing and analysis (FIJI) etc. 
Radek MACHÁN (Dr) – NOBIC facilities manager, user registration and training, technical issues with microscopes, OMERO, FIJI, consultation on imaging, image processing & analysis etc.
Peter TÖRÖK (Prof.) – SCELSE director of imaging, NOBIC director